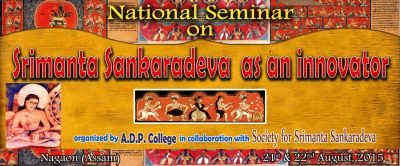 A UGC sponsored National seminar on 'SRIMANTA SANKARADEVA AS AN INNOVATOR' has been organised in ADP College, Nagaon on August 21-22. It will be held by ADP College Teacher's Council in collaboration with Society for Srimanta Sankaradeva.
Mahapurusha Srimanta Sankaradeva (1449 AD - 1568 AD) was an important personality in the annals of Indian history. He was not only a religious preceptor, but also a social reformer, who had sanskritized the ethnic groups of the volatile North East India and assimilated them with the national main-stream. He is considered as the father of the modern Assamese race. He was a great messiah, who rescued the people of Brahmaputra valley from the regressive medieval practices like human sacrifice.
Srimanta Sankaradeva was a cultural maestro too. He created a classical dance form known both as Sankari dance and Satriya dance. The Sangeet Nâtak Akâdemi of India recognized it as a classical dance form in 2000 AD. Srimanta Sankaradeva also evolved a school of classical music, which is named after him. He created as many as 25 Râgas of his own. He was also the first playwright in all modern Indian languages. Above all these, he was the first prose writer in the entire world. He introduced drop-scene and elevated stage in the world of drama way back in 1468 AD. He was also a fine artist. His art works have been preserved in the Albert Museum of London.
Srimanta Sankaradeva was a multi-faceted genius, working in diverse fields like religion, literature, music, dance, drama, architecture, social reconstruction etc. He was a great social reformer of medieval India, who preached equality and redeemed the common people from the clutch of the appropriators. He was also the first playwright in all modern Indian languages. His Ankiya plays launched the drama movement in India. The saint created the classical Sattriya dance form. Above all he integrated people of all castes, all tribes. Srimanta Sankaradeva's life and teachings should be known to all people of India and the world. That will certainly lead to greater social stability and peace.
The seminar has been organized by A.D.P. College in collaboration with Society for Srimanta Sankaradeva​ with the aim of creating sustained social stability. Srimanta Sankaradeva's innovations in the socio-cultural arena is the main theme of the seminar.
Sub-themes of Seminar :
1.Srimanta Sankaradeva founded a new social order.
2.Srimanta Sankaradeva's legacy has ensured ethnic integration in Assam.
3.Srimanta Sankaradeva's legacy is fine-tuned with the peasant economy of Assam.
4.Srimanta Sankaradeva's followers introduced micro-financing in Assam.
5.Srimanta Sankaradeva innovated a new knowledge management system.
6.Srimanta Sankaradeva influenced literature and culture in Northern India.
7.Srimanta Sankaradeva created new schools of dance, music and painting.
8.Srimanta Sankaradeva innovated local self administration.
Conveners of the seminar are Mr Joy Kr Singha, Associate Professor, ADP College (email - singhajkadp@gmail.com Phone- 94353 17745) and Dr Milan Neog, , Assistant Professor, ADP College (email - neogmilan@gmail.com Phone - 98540 33484). Abstract of the papers have to be sent to them before June 15. Papers may be written in either Assamese or English. Selected researchers have to send final papers by July 31.
The registration fees in the seminar are Rs 1000 for teachers with paper, Rs 500 for students with paper, Rs 400 for participants without paper.
Selected papers will be published in an ISBN title. The authors will get a free copy of it.