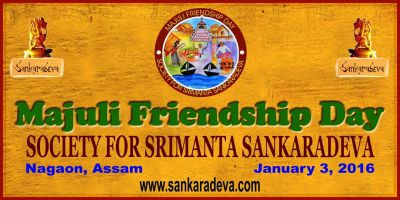 Society for Srimanta Sankaradeva, a global organisation engaged in promoting the legacy of Srimanta Sankaradeva is organising an event on January 3, 2016 at Nagaon to create awareness about the river island Majuli, which is a hub of Sankari culture in all its hues. The event has been named as Majuli Friendship Day. It will highlight the rich heritage of the river island and draw attention to the peril of erosion the island is facing. Earlier the Society celebrated 'Nagaon Friendship Day' in 2014. That event honored a few individuals contributing to Sankari culture.
The Society will felicitate environmentalist Jadav Payeng in this Majuli Friendship Day as he has contributed a lot to the preservation of ecology in Majuli. He will lead a plantation drive alongwith the event. The participants of the event will also take a pledge. The pledge is : "I take a vow to do my best to preserve the ecology. I will plant at least one sapling every year in my premises."
There will be display of different facets of Sankari culture including Gayan-Bayan in the event. There will be Sattriya Nritya recital by national award winning artist Meenakshi Medhi in the function. Ranjan Bezbarua and Madhab Krishna Das will perform Bargeet. Artists of Srimanta Sankaradeva Sangha will perform Diha-Naam and Thiya-naam. Artists from Rangalaya, Puranigudam will perform Gayan-Bayan.
An exhibition of Aharya used in Bhaona will be held during the Majuli Friendship Day. These will include Mask, Costume, Headgear, Ornaments and different accessories used in Bhaona. It may be noted that all these products were prepared by the members of Society for Srimanta Sankaradeva in a workshop conducted by it in 2014 under the sponsorship of Sangeet Natak Akademi.
A Photo Exhibition also will be held where different facets of Majuli will be displayed through photographs. Simultaneously an Art competition will be organised for students on the theme of 'Majuli'.
Several experts from different discipline will address the event. Dr Anupam Sarma of World Wildlife Fund, Rituraj Phukan, a climate expert and Dr Arun Sarma, President of Majuli Island Protection and Development Council will give presentations.
Bhadrakrishna Goswami, former President of Asom Sattra Mahasabha will inaugurate the event. Dr Binoy Bordoloi, Director, Assam Foundation of North America, USA, Dr Kandarpa Kumar Deka, VC of Mahapurusha Srimanta Sankaradeva Viswavidyalaya, Prof Prashanta Kr Bordoloi, Director of Kaziranga University, Shantanoo Bhattacharyya, Engineer and erosion specialist and Janardan Goswami, Sattradhikar of Uttar Kamalabari Sattra will also attend the event.
The Society wants the dealers of ethnic cloth and ethnic food of Majuli to exhibit and sell their products in the event. Any one interested in giving stalls of food or cloth is invited to contact the Secretary Mridu Moucham Bora at the numbers 9401383517, 9864906301.
The event will take place in Nagaon Natya Mandir, Amolapatty, Nagaon. The plantation will be carried out in the morning at 8.30 am in the premises of ADP College in co-operation with ADP College Teachers Council. The main event will start at 9.30 am at Nagaon Natya Mandir. The Majuli Friendship Day is sponsored by the Assamese diaspora in United States and Netherlands. Ankur Bora living in Dallas, USA has co-ordinated them.
It may be mentioned that Society for Srimanta Sankaradeva organised an international conference on Majuli in 2012. It gave relief to flood victims of Majuli and also gave financial assistance to several artisans in Majuli. The Society is associated with the effort to get World Heritage Site status for Majuli.