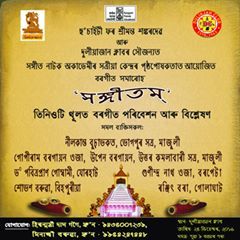 The great contribution of Srimanta Sankaradeva, Bargeet is getting diluted over the years as the singers do not learn it properly. Most of them even sing these classical songs like modern songs, damaging its classical character. So we, Society for Srimanta Sankaradeva are organising a musical event at Duliajan Club, Duliajan on December 25, 2016 in association with Duliajan Club. The event will be day-long,starting at 9 am.
Several maestros will present Bargeet in full classical style in this Bargeet Samaroh. It is for the first time that such an event has been organised in Assam. Every Bargeet will take about 30 minutes to render in this style. The maestros who have given consent thus far are Nilakanta Burabhakat, Bhogpur Sattra, Majuli, Gunindra Nath Oja, Barpeta, Gopiram Borgayan and Upen Borgayan, Uttar Kamalabari Sattra, Majuli, Shobhan Barua, Narayanpur, Dr Pabitrapran Goswami, Jorhat and Ranjit Bora, Golaghat. The maestros will also speak about Bargeet, alongwith their performance and answer any question. The event will be started by a performance of Ranjan Bezbaruah of Nagaon, who has earned name by translating a few Bargeet to Sanskrit. Dr Mallika Kandali will perform a Sattriya Nritya based on Bargeet in the valedictory function. The local artists will also render a Bargeet.
The Sattriya Kendra of Sangeet Natak Akademy is expected to videograph the entire performances for permanent preservation in their archive. Doordarshan and All India Radio also will do similar recording for preservation purpose. We also will upload the recordings in our website www.sankaradeva.com.
We therefore request you to kindly attend this musical event. We have made entry free for all. Please inform your friends too so that they can schedule their visits in order to accommodate this event. It will be a life-time experience. There will also be an exhibition-cum-sale of Aharya and manuscript paintings made by our trainees in our different workshops, outside the auditorium. Hemaprabha Chutiya's marvellous depiction of Namghosha and Gunamala in cloth also will be exhibited in it.