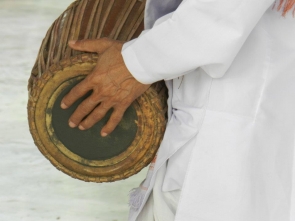 INTERNATIONAL CONFERENCE ON MAJULI
8th July 2012, Guwahati, Assam
An initiative by Society for Srimanta Sankaradeva in collaboration with
Assam Society of America Foundation (USA), Friends of Assam and Seven Sisters (FASS) International (USA), Core Professional Group for the Brahmaputra (CPGB), and Majuli Cultural Landscape Management Authority (MCLMA)
Majuli is a wonder of nature. Situated in the midst of the mighty Brahmaputra river, Majuli is the second largest river islands in the world. It is populated by different colorful communities, majority of whom abide by the tenets of Saint Srimanta Sankaradeva. He had set his feet in the land mass of Majuli in 1522 AD and stayed there till 1539 AD. The great 'Sattra' institution, founded by him has flourished in this river island till today. They have preserved and nourished the Vaishnavite culture with great enthusiasm. In fact Majuli is a nerve center of Assamese culture. This great island is facing a crisis of existence as Brahmaputra is eroding it regularly. Massive floods devastate Majuli every year. We all need to put our hands together to preserve it for posterity.
The 'Society for Srimanta Sankaradeva' ('Society' hereafter), a global body to spread the saint's message, is taking up the issues of Majuli. The Society is involved in the on-going efforts to get Majuli listed in the World Heritage Site. It has created awareness about Majuli by itself and also through its sister body 'Friends of Majuli', a forum in Facebook. (https://www.facebook.com/groups/147415871995236/). The Society is also a stakeholder in the entire process of submission of nomination dossier and the President has participated in meetings convened by the Government of Assam on this issue. However, the issue needs greater exposure as we are not getting adequate support from Government of India. For that purpose the Society is organizing an international conference focusing on Majuli and its various facets on July 8, 2012 in Guwahati in collaboration with Assam Society of America Foundation (USA), Friends of Assam and Seven Sisters (FASS) International (USA), Core Professional Group for the Brahmaputra (CPGB), and Majuli Cultural Landscape Management Authority (MCLMA).
The mission of the Assam Society of America Foundation is to promote and coordinate works for improving the economic and social environment, especially that of the underprivileged population, in Assam and Northeast India. Core Professional Group for the Brahmaputra (CPGB) has been engaged in finding a solution to the problem of Brahmaputra flood and erosion control of Majuli. Majuli Cultural Landscape Management Authority (MCLMA) is a Govt of Assam initiative to undertake developmental works in Majuli. Friends of Assam and Seven Sisters (FASS) International (USA) is a non-profit 'think tank' welfare organization for the betterment of the people of North East India. FASS is planning to release a Special Newsletter (MITRO) on Majuli addressing the major issues. The collaborative effort will enable us to focus on the two basic problems facing Majuli today in the conference. (1) Erosion of Majuli. During the last century about 50% of Majuli has been eroded in spite of the preventive efforts so far of the authority. (2) Putting Majuli in World Heritage List. Both these two issues are equally important for the public.
The main goal of the conference is to address these issues and create an awareness about Majuli among the masses as well as to exert pressure on the concerned authorities to expedite the process of erosion control and start developmental works in Majuli. This conference program may be webcast live on the Society's website www.sankaradeva.comsubject to availability of high speed connectivity. The Governor of Assam and the Chief Minister of Assam have been requested to grace the occasion. The Society will follow up the issue as per the decision of the conference. It will also participate in the developmental process of Majuli in collaboration with and as envisaged by the Majuli Island Protection and Development Council (MIPDC) and the Majuli Cultural Landscape Management Authority (MCLMA). The collaborators/sponsors of this international conference also will have the serious responsibility of creating global awareness about Majuli and for that matter Assam.
The agenda of the conference is as follows :

9.00 am : Inauguration of photo exhibition by Narayan Chandra Goswami
9.10 am : Bargeet by Chayanika Goswami

9.25 am : Dignitaries take chair

9.30 am : Welcome address

9.45 am : Background note on status of nomination of Majuli for WHS
by Suryanarayan Murthy
10.05 am : FASS presentation

10.15 am : Chief guest's address and release of news-letter MITRO

10.30 am : Guest of honour's address

10.45 am : Dr Arvind Phukan's presentation on erosion problem in Majuli

11.25 am : Presentation by CEO of Majuli Cultural Landscape Management Authority

11.45 am : Presentations on Majuli by leading academicians

12.15 pm : Lunch break
01.15 pm : Speeches by heads of leading organizations

02.05 pm : Speeches by Sattradhikars

03.05 pm : Technical Papers by Prasujya Gogoi from New Delhi, Gili Navon from Israel etc

03.45 pm : Question-answer session

04.05 pm : President's comment

04.15 pm : Vote of thanks

The Society is looking for your active participation and support to make this international conference and its overall efforts a success.
Thank you.
Sincerely,
Dr Sanjib Kumar Borkakoti
President
Neilh M Gautam
General Secretary
Society for Srimanta Sankaradeva