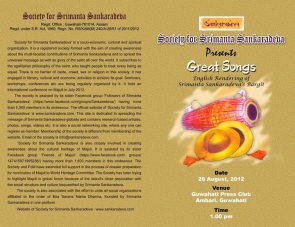 Dear Friend,
Society for Srimanta Sankaradeva has been making its best effort to present the works of Srimanta Sankaradeva in global fora through its website and other activities. In continuation of this effort, the Society is bringing out English version of the saint's unique lyric composition, Bargît. The English version of these Bargît will be presented to the readers on August 26 in a solemn function to be held in Guwahati.
The book titled 'Great Songs' will be released by eminent educationist Dr Kishori Mohan Pathak, formerly Vice Chancellor of Tezpur University. Sri Hari Prasad Hazarika, General Secretary of Srimanta Sankaradeva Sangha and Dr Durlav Chamua, MLA of Nagaon and a distinguished promoter of Sankari culture will be the guests of honour.
We extend our heartiest invitation to you to this book release function. It will be our immense pleasure if you kindly attend the function and encourage us in our effort.
The function will be held in the Guwahati Press Club at Ambari, Guwahati from 1 pm. We look forward to your august presence in it.
Thank you.
Sincerely,
Dr Sanjib Kumar Borkakoti
President
Society for Srimanta Sankaradeva